Cheap And Easy Ways To Clean Upholstery
13 March 2014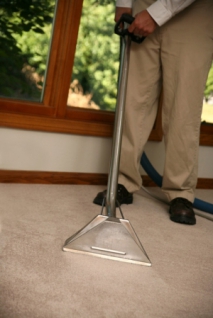 Cleaning upholstery is not easy especially if you have a large sofa to tend too or one that is particularly dirty; however, it is possible as long as you have the right tools or detergents for the job.
One thing's for sure cleaning upholstery it the cheaper way of getting a fresh new look because its cost considerably less to clean a sofa than it does to buy a new one! Not everybody can afford to go out and buy a new sofa (The moment it starts showing signs of wear and use) and so therefore there has to be 'plan b' so to speak, for dealing with this situation. The 'plan b' allows two options really, you can either attempt to clean the sofa yourself (and in a moment we explain how) or you may wish to hire professional upholstery cleaners from and agency instead, both are feasible however hiring cleaning contractors generally costs more although the end result is well worth the price.
In other situations such as tenants who rent furniture along with the property and landlords who let out fully furnished properties, it's not worth replacing the furniture that often as they are less likely to stay clean for long anyway. Landlords, who let out properties quite frequently, to many different tenants especially students, find that using cleaning agencies for deep cleans is the more efficient method to use.
DIY cleaning method, the pros and cons!
Cleaning upholstery yourself is the cheaper option however it's not going to be easy, it will be time consuming and the result of your hard work may not be as you desired!
It's always better to remove all covers where possible and to machine wash those so that you only have to actually clean the shell of the sofa. This is less work, but not easy, as trying to put washed covers back onto the foam seat cushions is rather tricky to say the least.
When it comes to cleaning the shell (frame) of the sofa sometimes if there are only a few marks you may not have to clean the whole lot however what you may notice is that once you have cleaned a small area you notice that the rest of the sofa looks dull and may decide to clean the whole lot anyway.
For stubborn stains, or stains that have been there for quite some time, it may require a good soak with product prior to scrubbing. Simply spray the area with plenty of foam upholstery cleaner and allow it to soak through for about 30 minutes, if this has made no difference, apply more and repeat.
Next, using a soft bristle brush, lightly scrub the sofa in circular motions to help lift the stain form the core of the fabric, once the area is complete use clean water to rinse away residue and then dry the fabric with a towel to remove excess moisture.
Allow a freshly washed sofa to completely dry before you use it again.
DIY easy method!
If you own a Steam cleaner you can clean a sofa easier than using the scrubbing technique. You may not have to remove the cushion covers with this method which makes the job easier too.
Steam cleaning machines can be pricey though so if you feel it won't be used often; it may be more beneficial to hire a steam cleaning service for a one-off clean instead.
Steam cleaning has its benefits though, it uses less water and the drying time is dramatically increased meaning that you can use the sofa again, soon afterwards. They are also more efficient as only water and steam is used to clean but do not underestimate the ability of a steam cleaner as they are super effective.